Welcome to Dr. Dyno's 24th year of
Better Than New tuning for bikes and trikes, 2019!
Dyno Testing All Motorcycles
Expert Tuning American V-Twins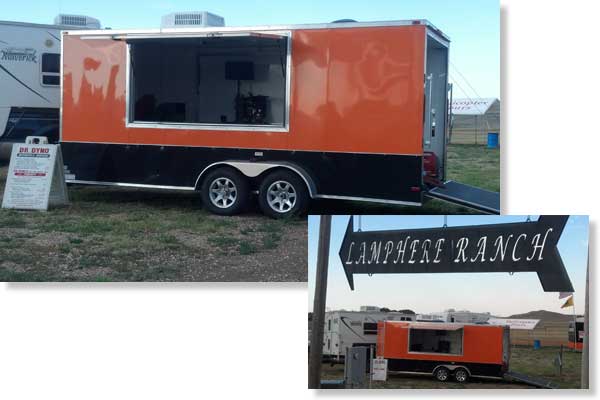 Look for the Doctor with his new bike & trike dyno!
(pictured at Sturgis at Lamphere Ranch)
PURPOSE OF DYNO TESTING AND TUNING
Dr. Dyno's objective is "Feel the Difference" therapy for your motorcycle specializing in Harley-Davidson.
More importantly, whether you're riding a cruiser or a sport bike he won't take your tuning money unless you will feel the difference.
After running his baseline dyno tests, the doctor explains them to the rider and discusses the potential improvements in power, economy, smoothness and longevity. As he often says, "It's about more than the money. If it's not going to work for the customer I won't go any further than the baseline tests. When I do tune I leave nothing for any other tuner to find. All results are guaranteed. Perfect is good enough."
TESTING PROCEDURE
After a warm-up on the dyno the baseline set of tests ($100) includes:
Full throttle - Horsepower and torque with dual air/fuel ratio (AFR) measurements. Typically completed with two virtually identical runs.
Purpose: Determine if the engine is tuned for and making full power.
Cruise - The where-you-ride test measuring AFRs at about 25 horsepower. Smoothness and economy are the targets in this area.
Idle AFRs - If idle mixtures aren't correct the engine will either run hot or waste fuel in stop-and-go traffic.
Deceleration pop - Although it doesn't hurt the engine it is often very annoying. It can be reduced or eliminated with proper tuning.
All tests include explanations, analysis and printouts, and are done within the owner's rpm constraints. There is no useful information at engine speeds beyond the horsepower peak.
TUNING
Here are the four areas the doctor uses to make you feel the difference. This is where he enjoys putting a million dollar smile on your face for only a few hundred dollars.
Air - The doctor recommends high-flow air intake systems. He carries Arlen Ness air cleaner assemblies for Big Twin (Evo and Twin Cam) Harleys.
Fuel - Right-jetting (anyone can re-jet) carburetted Harleys (CV, Mikuni, S&S only).
Tuning fuel injection systems including custom mapping of all throttle positions and rpms with Power Commanders on all brands and, on H-D, ECM programmers such as PV, SERT, SEST, MT TTS.
Ignition - "Sweet Spot" timing. For best power and economy, timing is everything (H-D Evo and '08-on Touring only).
Exhaust - TorqueTuning pipes to cam timing by adding or reducing backpressure to put the power where you want it (H-D only).
All tuning work is done with advance prices and running explanations. Most owners prefer seeing the tuning being done live rather sending their "baby" off to be operated on behind closed doors.
Additional tuning infomation:
All Twin Cam and Sportster models equipped with O2 sensors have "the new bike you thought you bought" hidden inside. They just need a little more air and fuel. A thorough discussion is available in the articles below.
Fixing an "upside down" carburetor that's richer at cruise than full throttle due to having a "kit" installed will incur additional time and expense.
Using an ECM programmer on fuel injected Harleys adds some time and an additional $100 charge.
2008 and later Touring models respond especially well to correctly adjusted ignition timing making sixth gear more usable at legal highway speeds.
Although often overlooked, exhaust tuning can transform the mid-range torque and fuel mileage of a Harley if adjusted correctly.
On carbureted models jetting for all rpm ranges is impossible without enough back pressure.
Fuel injected models may have perfect AFR curves but still suffer mid-range torque loss without optimized exhaust tuning.
TorqueTuning is the most effective way to move the power band of your Harley to where you ride. That's just one of the Dr. Dyno differences.
Dr. Dyno hit the pages of American Iron Magazine again in 2010 with a very pertinent article! (The article starts on page 40 of the print edition.)
The June 2010 article updates dyno testing changes since the May and July 2006 issues.
The July 2010 issue explains oxygen sensors and the problems they caused starting in 2006.
September 2010 discusses closed-loop fixes including a comparison chart of 19 EFI tuners.
In addition, these American Iron Magazine articles by Dr. Dyno from 2006 remain excellent references:
The May 2006 issue is an updated reprint of the first "Dyno Dos and Dont's" from April 2003.
The June 2006 article details proper dynotuning of carbureted Harleys, including TorqueTuning.
July 2006 discusses dynos read differently - some reasons legitimate, others purposely faked.
The August 2006 article covers the H-D Race Fueler, Dobeck Performance TFI,
Custom Chrome DFO and Kuryakyn Wild Things FI controller.
The September 2006 article details map-based EFI tuning options.
Your feedback or comment is almost always welcome. (If the link doesn't work, please right click to copy the email address and paste into your email program.)
Page updated Friday, Jan 18, 2019 18:45